DLS Cabinet with 5 electronically locked vertical drawers for storing tool assemblies. Manage them with MATRIX software, using the option to serialize each tool assembly.
Up to 3 racks per drawer
Rack options:
6 holes rack for HSK A63 / C6 / 40T
8 holes rack for 30T
Adjustable rack height
Sits atop DLS 4D or work bench
Available as POD version
Cabinet dimensions:
W- 915mm/36" x D- 610mm/24" x H- 1070mm/42" (including Base)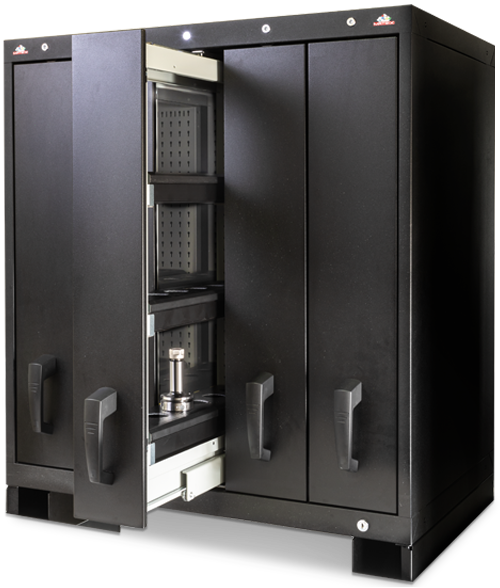 Economical solution with flexible drawer partitions suitable for small and large items.
Semi-secure with 8 electronically locked drawers.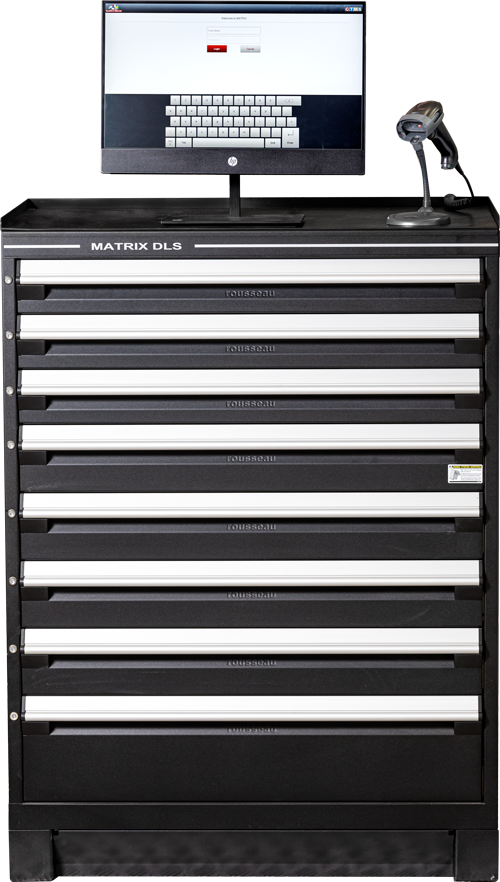 DLS 8D rounds out the MATRIX range of automated tool dispensers, offering a spacious open drawer planning with configurable storage capacity. Suitable for a variety of cutting tools and related commodities, such as:
Cutters, drills, holders and blades
Inserts
Solid carbide tools
Long and large diameter tools, such as gun drills and slotting cutters
Gauges
Measuring devices
Small to medium sized grinding wheels
Fixtures and accessories
Small to medium sized industrial commodities
8 drawers per cabinet (H): 3 x 101mm/4"; 4 x 127mm/5"; 1 x 203mm/8"
Net (internal) height of each drawer is 1″/25.4mm less than the above nominal heights
Load weight per drawer: up to 180kg/397lb
 Partitions supplied with each drawer are pre-installed and bolted to the drawer base but may be changed – DLS DRAWERS 04 & 05 = 5 pcs x 24″/610mm (L),
DLS DRAWER 08 = 3 pcs x 24″/610mm (L)
Dividers supplied with each drawer are not pre-installed and may be installed in any available slot – DLS DRAWERS 04 & 05 = 8 pcs x 5″/127mm (W) + 16 pcs x 6″/152mm (W),
DLS DRAWER 08 = 8 pcs x 8″/203mm (W)
Sturdy industrial cabinet with 8 electronically locked drawers
2 versions: TOUCH (stand-alone) and POD (add-on)
Manual override in case of power failure
TOUCH: supplied with all-in-one pc-touchscreen, bar code reader, network switch and management software
Direct network connection and single power supply 110-230V
Cabinet dimensions 915mm/36" (W) x 610mm/24" (D) x 1220mm/48" (H)
Front Access Forklift Base – 100mm/4" (H)
Supplementary storage capacity used as a base for a MINI cabinet.
Semi-Secure with 4 electronically locked drawers.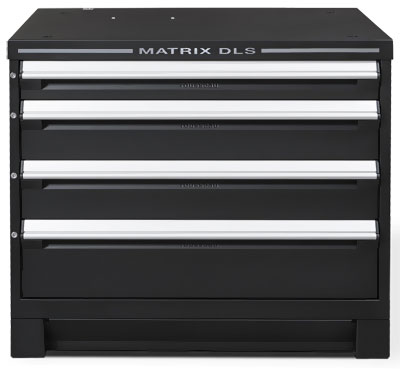 DLS 4D rounds out the MATRIX range of automated tool dispensers, offering supplementary and configurable storage capacity. Suitable for a variety of cutting tools and related commodities, such as:
Cutters, drills, holders and blades
Inserts
Solid carbide tools
Long and large diameter tools, such as gun drills and slotting cutters
Gauges
Measuring devices
Small to medium sized grinding wheels
Fixtures and accessories
Small to medium sized industrial commodities
4 drawers per cabinet (H): 1 x 101mm/4"; 2 x 153mm/6"; 1 x 203mm/8"
Net (internal) height of each drawer is 1″/25.4mm less than the above nominal heights
Load weight per drawer: up to 180kg/397lb
Partitions supplied with each drawer are pre-installed and bolted to the drawer base but may be changed – DLS DRAWERS 04 & 06 = 5 pcs x 24″/610mm (L),
DLS DRAWER 08 = 3 pcs x 24″/610mm (L)
Dividers supplied with each drawer are not pre-installed and may be installed in any available slot – DLS DRAWERS 04 & 06 = 8 pcs x 5″/127mm (W) + 16 pcs x 6″/152mm (W),
DLS DRAWER 08 = 8 pcs x 8″/203mm (W)
Sturdy industrial cabinet with 4 electronically locked drawers
POD version only
Manual override in case of power failure
Direct network connection and single power supply 110-230V
Cabinet dimensions: 915mm/36" (W) x 610mm/24" (D) x 820mm/32" (H)
Front Access Forklift Base: 100mm/4" (H)
Pro více produktů, klikněte: