Secure environment for Inserts and Tools. Cabinet combines 4 single insert drawers and 4 DLS style locked drawers.
DLS style drawer dimensions: 517mm/20.3" (W) x 530mm/20.8" (D) x 97mm/3.8" (H) – each drawer is supplied with 3 partitions and 16 dividers.
Same cabinet dimensions as ToolPort 8D model. Available as TOUCH or POD version.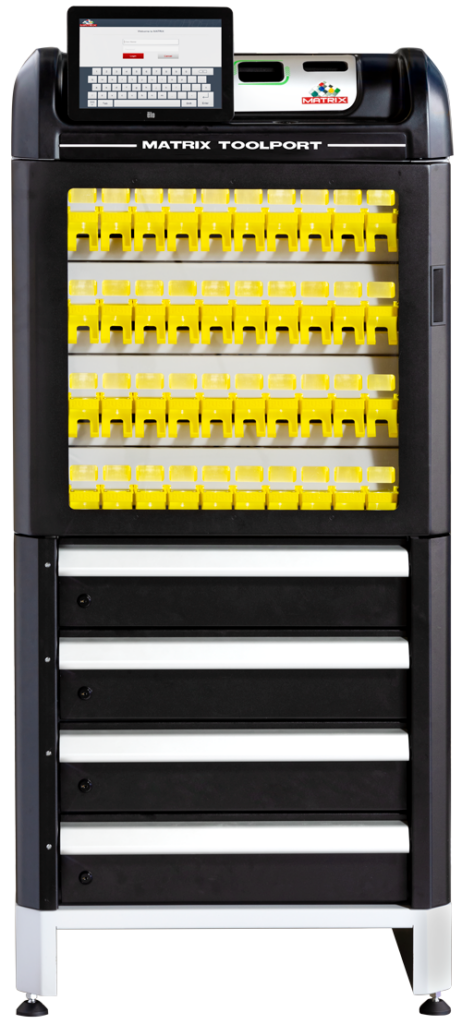 Dispenses single inserts and small items, one by one.
100% Accountability & 100% Control.
8 drawer (8D) and 4 drawer (4D) models available in TOUCH and POD versions.
Driven by MATRIX software.
Dispensing cartridges are locked for complete control over each item.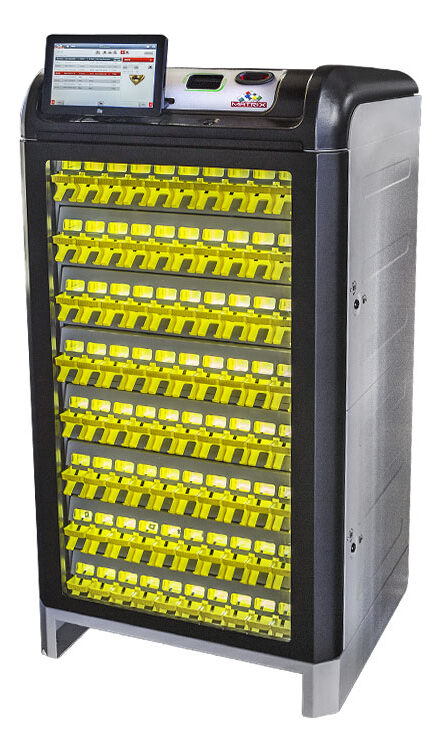 ToolPort is the single insert specialist amongst the MATRIX range of automated tool dispensers. Also suitable for:
Indexable drilling heads
Small solid carbide end-mills
Miniature tools
Small parts
Storage Capacity & Specifications
4D Model
8D Model
Footprint
Benchtop 677mm/27" (W) 614mm/24" (D) 876mm/35" (H)
Free Standing 677mm/27" (W) 614mm/24" (D) 1448mm/57" (H)
Drawers
4
8
Maximum insert capacity
800
1600
Cartridges per drawer
10 (1 SKU per cartridge)
Storage Containers per cartridge (max.)
20 single or 10 double Containers are reusable. Each cartridge is factory loaded with 10 single containers
Single Container dimensions
38.5mm/1.51" (W) x 12.4mm/.488" (D) x 38.8mm/1.527" (H)
Double Container dimensions
38.5mm/1.51" (W) x 27.4mm/1.078" (D) x 38.8mm/1.527" (H)
TOUCH version
Software license, PC, touchscreen, single power supply 110-230V, network switch and barcode reader (with flexible arm for optional external installation)
POD version
Single power supply 110-230V and network switch Operated via touchscreen on an adjacent MATRIX cabinet
Front access forklift base
100mm/4" (H)
CE certified
√
Optional Accessories
Wheels; Single Containers (pack of 200) and Double Containers (pack of 100); RFID reader; Fingerprint reader; UPS; UPS Shelf